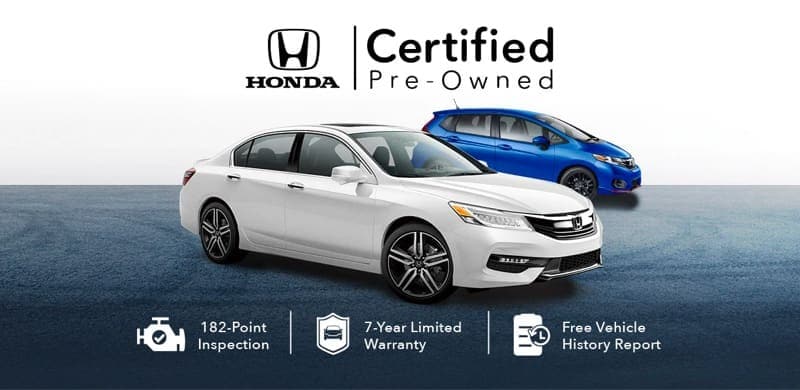 Certified Pre-Owned
Nothing compares to the quality of a Honda. No other program comes close.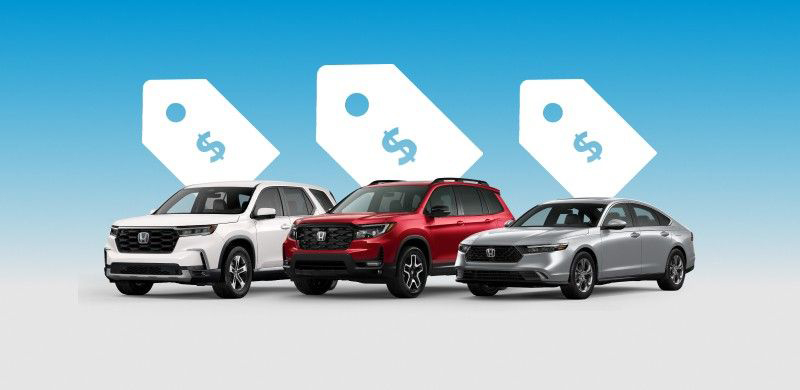 Current Offers
See this month's featured current offers going on now on new Honda vehicles.
Our Reviews
While vacationing in Hilton Head our 2013 Odyssey started having engine problems. I called the dealership, explained our situation and they promptly arranged a service appointment .,... for that very afternoon. The car was quickly diagnosed with a major engine problem. Eric was very upfront with the repair and did a great job explaining our choices. Not an easy decision. After ready all the reviews about the quality of the service department, we had them do the repairs. The repair was done on time with no upsell of any other work. The car runs great. Eric, thanks for your honesty and thanks to the service department. I wish they could move up to Pittsburgh.
I would like to take this opportunity to recognize Hilton Head Honda for their excellent service and commitment. They stood by their word which is a rarity in today's business world. A special thanks to Ryan and A.J..I would recommend this dealership to anyone interested buying a Honda.
I just love Sue Falisi. I received the best darn customer service today! Pls go to her! She loves her people and has bent over backwards to take care of her customers. She will stay in constant touch with you with good news or bad, and with her, you don't run the risk of falling through the cracks!! I love this lady for the way she has treated me and I won't go to any other Service Tech! She is an asset to Hilton head Honda!!! In this business, the employees can make or break a dealership! I hope they recognize the fact that she is a gem!! Thank you so much for helping me out today and getting my car ready for an important matter tomorrow.
Sometimes you can tell as much about a quality dealership by what they do not do in addition to the service that they do. Our very old and very high mileage Honda Odyssey completely imploded it's transmission and died on I-95 last Thursday. We were 340 miles into our 400 mile trip from Tennessee to Hilton Head. After arranging for a tow, we called Chris Wiszowaty at Hilton Head Honda to let them know we were heading that way. We knew we'd get there after closing and were instructed to leave our key in the drop box. I met with Chris the next morning after they had a chance to look our van over. While the news was bad (More $ to fix than the van was worth) Hilton Head Honda was more than accommodating. Our van was loaded not only with all our stuff, but also had three racing kayaks on the roof rack. So the logistics of not ruining our vacation, getting to a kayak race on Saturday and getting back home were complicated. HHH's fast diagnosis allowed us to start planning, aided greatly by their offer to keep the van parked in their lot for several days while we regrouped. I must add that all this - The inspection and the storage was all at no cost to us. We were expecting a fee for all this and would have gladly paid it. Hilton Head Honda's service and helpful attitude was key to making a very difficult situation bearable. We were able to continue our vacation and managed to get all our belongings and ourselves back home. We live too far away to be a customer of Hilton Head Honda so the best we can do is review here and let anyone local know that HHH could have taken advantage of our desperate and distant situation and still been a good business. But they didn't - Instead they helped us out as quickly and professionally as possible. I would imagine that this same positive attitude will apply to HHH's local sales and service customers. So thank you Chris, Dave and Jason for helping us out - even if you consider it just doing your job.
On a trip to North Carolina from South Florida my girlfriend and I ran into car trouble in the Hilton Head area of South Carolina. Thankfully, we were escorted by the State Trooper to the closest Honda dealership which was Hilton Head Honda. When we arrived, we were greeted by Chris W. in the service department. Chris met with us and assured us he would have the car checked out as quickly as possible so we could get back on the road. After a very short wait, the service technician Kevin C. came to the waiting area to discuss his findings. Kevin was extremely knowledgeable and went above and beyond to make sure that we were back on the road safely. Both Kevin and Chris provided their contact information should we run into any car trouble down the road. My girlfriend and I were stressed and worried that we would not make it to North Carolina and would have to cancel our vacation. Kevin and Chris immediately made us feel that we were in good hands and that they would do their best to get us to our destination. In a completely unfamiliar town, we could not be more grateful for the service these two-gentleman provided and we felt the least we could do was to make sure they were recognized for their hard work and dedication to their customers. For anyone local, I highly recommend that you bring your Honda to Hilton Head Honda for future services.
Just bought my second Honda from them thru Shawn Belz. Outstanding customer centric approach no matter what department or person I spoke with. Very straight forward no nonsense answers to anything I asked. Just the facts and if the information I needed was not known to the person I asked they found someone in house who did in very short order. Service to my first Honda was excellent, professional, and always on time.
Excellent service. Sales associate Jerome spot on. Pressure free, personable, professional, knowledgeable and easy to talk to. A great asset to HHH. Mike and Rose
This service department is an industry leader, hands down the best experience. I have been getting my Honda serviced here for about a year now and they have been consistently great in every aspect you need in a service department. My advisor has been Sue and I can't tell you how much I love working with her. I have never been persuaded into getting unnecessary replacement parts or services, and she always treats me with respect. Even when I have an appointment with her and she is busy when I get there, I am immediately greeted by another advisor which makes me feel welcome and my business is appreciated. Even if you don't own a Honda, I would recommend this service department in a heartbeat!
From the first contact to the phone call after the sale. This has been the best car buying experience of my long life. Would highly recommend these guys to anyone.
Eric Singleton took care of my cars starter problem on my recent visit. He was very professional and made me aware of the service needed. He kept me informed as to the repair required and replaced the starter. Later that day when I had my car back, I tried to start my car and it again gave me the same starting issues. Eric asked me to return to the dealership and they gave me a car to drive since they needed to order another starter and it was a holiday. They would have to wait for the part. They replaced the starter with another new one but while doing the repair they found there was another issue to be repaired. Eric stayed in touch with me through the service process. This is my 3rd Honda Accord and the first time I've needed any service but it is nice to know that when I did need service it was a pleasant experience. Great job Eric. B. Callahan
This was my 5th Honda with Hilton Head Honda. I don't know how they continually improve their customer service, but they do. 100% satisfaction with the entire team at this dealership. Special thanks to Andy Place and Ryan Walline....thank you Hilton Head Honda!
Chris (service advisor) and Greg (technician) provided practical, no nonsense, honest advice and repair in contrast to other dealerships I have dealt with in the past. Highly recommend Hilton Head Honda.
Chris ( service advisor) and Greg (technician) provided practical honest advice and quick service when I had a brake problem. I highly recommend Hilton Head Honda. I have been to other dealer service shops that would have recommended expensive but unnecessary parts and repair.
We were in search of a 2018 Honda Accord EX-L 2.0T. We were nervous because this was the first time we would be buying a "New" car. Shawn Belz made the experience easy and painless. We could tell that he definitely cared. He made us feel comfortable and at ease. He got us the car that we wanted with no hassle and a great price that we could not turn down. Shawn Lessig got us an awesome deal with financing even though our credit was far from perfect. This is a great dealership with great people. I would recommend them 100%.
Easiest car buying experience we have ever had! Was in and out with our new vehicle in no time. Thanks Andy and Hilton Head Honda!
Shawn Belz was amazing and took really good care of me. Was very pleasant and helped me the get vehicle I really wanted. Would 100% Recommend him to anyone.
My experience with dealerships is few and far between as I purchase a vehicle every 15 years. Autos have changed remarkably since 2003, so I had lots of questions and was looking for detailed safety information. Shawn Belz was very patient in answering my questions and offered options for test drives. I am very please with my new car and look forward to driving it for a long time!
Thanks to Charles Kelly for making buying a vehicle a pleasant experience. Most of the deal was handled on the phone followed by a trip to the dealer to sign the papers. Charles made sure we were informed and satisfied customers.
Car dealerships are not my favorite place to spend a morning but Charles Kelley made my day! He was a gentleman, a professional, knew everything I wanted to know about the car I was looking at, let me test drive it immediately and worked hard with management to get the price I could afford. I love my Honda CR-V and would recommend Hilton Head Honda because of Charles Kelley. He made my buying experience a joy. Thank you, Charles!
Everyone very helpful in selection of car and model, made sure car was equipped with all items I requested and they were fair regarding price and delivery.
Purchased a 2019 Honda Ridgeline RT-E. Charles Kelley did an amazing job (and a lot of work) to make the whole process easy and fast. Even had to find a vehicle with the options that I needed. They were able to find the truck and have it ready for me in just a few days, after installing a roof rack with rails. They also did a great job of working with me to meet my price. Give them a try and ask for Charles Kelley. You will be glad you did!
We had an excellent experience with Eric as our salesperson. He was an informed, intelligent and personable salesman that was totally low pressure...a pleasant contrast in this business!
Went to hilton head honda and wanted to purchase a honda CRV. Took a test drive, crunch the numbers and bought the vehicle. Salesperson was excellent. He told us all the features of the car. Had a 45 minute orientation on all the features of the car. Purchased car and a few hours later drove it home. Pleasant experience !
Can't say enough about the service and care I received from Sales & leasing Consultant Shawn Belz at HH Honda. I would definitely recommend Shawn Belz and HH Honda to anyone who is in the market for a new vehicle.
Lat week my wife and I inquired about a late model Honda Accord at HH Honda. We were pleasantly greeted by Ken McAfee in a prompt and pleasant manner. Ken provided the information we needed to make a wise decision for purchase. Ken displays the finest elements of politeness, product knowledge and professionalism. Throughout the entire process of selection, negotiation, purchase and delivery, Ken was patient and kind, he truly cared about my wife being provided a quality vehicle. We were blessed to have Ken as a salesman, he exemplifies the highest moral tone and his concern for the customer is unparalleled. We are very pleased! We shall support the dealership in the future and hope Ken McAfee is there to greet us with his warm smile and wonderful assistance. May God bless all of you!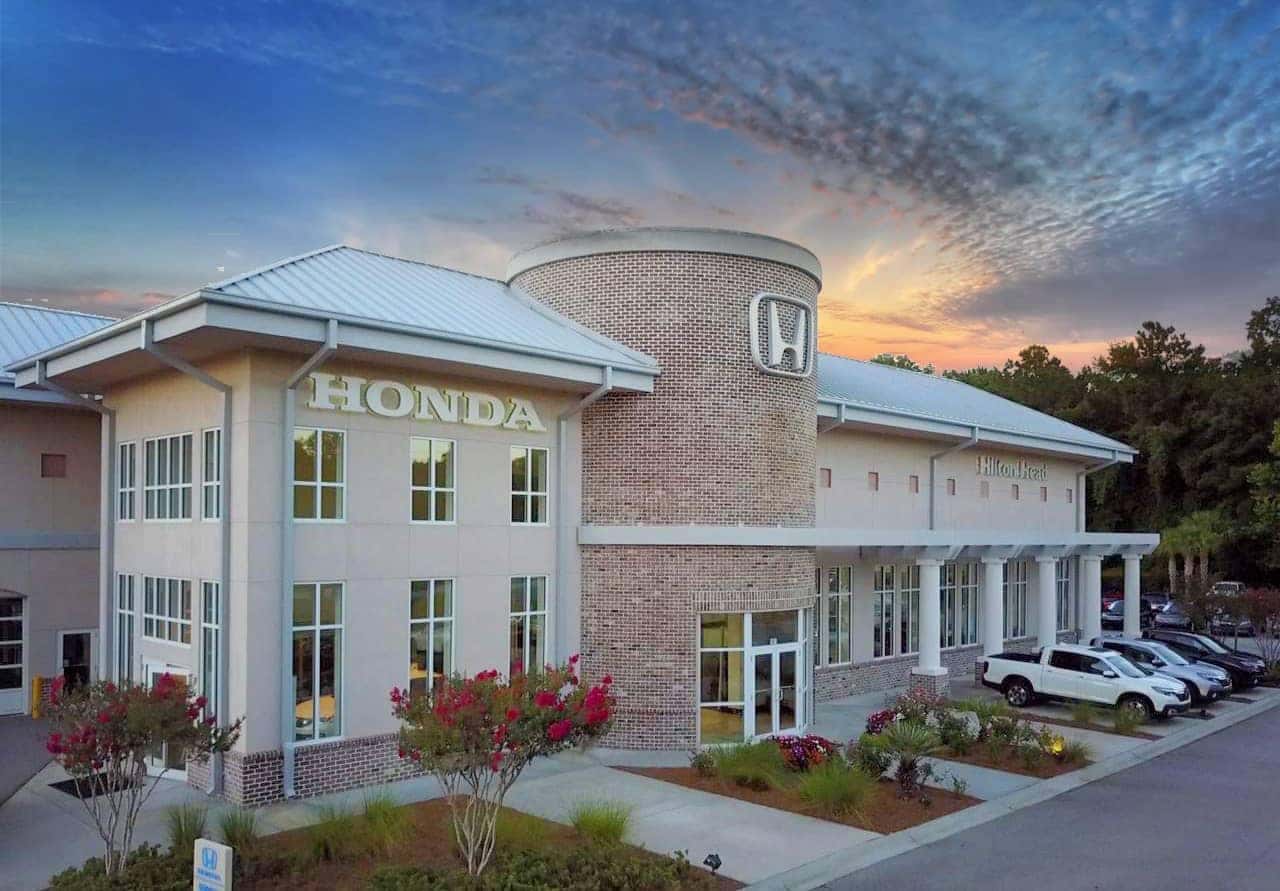 Welcome to Hilton Head Honda in Bluffton, SC
Welcome to Hilton Head Honda! Our full-service Honda dealership has an expansive inventory of great vehicles to browse and a friendly team of experts here to assist you in your journey to the driver's seat. We offer everything you need for your next drive in Bluffton, Hilton Head Island, and Charleston, South Carolina, as well as Savannah, Georgia.
Honda engineering is known for its all-around excellence and capability. There is plenty of variety to explore, as there is a Honda model for nearly everyone. Join us and see what awaits you and what our team of experts has in store for you.
---
Our Mission
For over 30 years, our team has been dedicated to helping area drivers discover amazing vehicles and start epic road trips. Each member of our staff is ready to help guide you along your way to a great Honda. From sales representatives and finance experts to certified technicians and parts professionals, our comprehensive dealership has the people you need to assist in starting your next drive in an excellent vehicle.
---
An Expansive Research Database
On our website, we host a wide collection of reviews, comparisons, guides, and other kinds of helpful articles to assist you on your journey. We put the work into these pieces so that you can simply read and reap the rewards. These pages contain information and insight that will get you prepared for the road.
You can learn more about our Honda cars, trucks, minivans, and SUVs in our reviews. They highlight what makes each vehicle such a great option for your lifestyle, from solo adventurers to families heading on a vacation together. Our comparisons pit our Honda models head-to-head with other popular vehicles and show how Honda comes out on top with superior design and capability.
Plenty of Honda Models to Browse
Our inventory is filled with excellent Honda vehicles that will have you itching to hit the road. You will find new models that feature the latest innovations from expert engineers. Our new Honda models give you lots of fun features and a smooth performance that will make every drive exciting.
We also have a variety of used Honda models for sale. These cars come in all shapes and sizes, and each one is unique. Our used Honda selection makes it easy to find a model that suits you and start driving it sooner.
Certified pre-owned (CPO) Honda cars are a special class of car that meet the high standards of the manufacturer. These vehicles pass multiple tests and exams to prove they surpass expectations. Thanks to this quality assurance and additional warranties, you'll have peace of mind when you drive.
More Useful Online Tools
You'll find lots of handy pages on our website for every step in your process. After browsing our inventory of Honda models online, check out our finance applications to streamline your process. You can learn about potential loan options and estimate the value of your trade-in vehicle to prepare.
When it's time for service and maintenance, schedule your visit online for added convenience! You can find a time that fits into your schedule and give your Honda the expert care it needs.
Visit Us Today!
At our Honda dealership, we'll work hard to get your next trip in Bluffton, Hilton Head Island, and Charleston, SC, and Savannah, GA, started off on the right foot. Contact Hilton Head Honda and schedule your test drive!
Get Directions To Hilton Head Honda